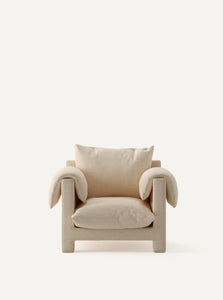 La Plume is generous and inviting, with a focus on comfort unlike anything we've ever made before.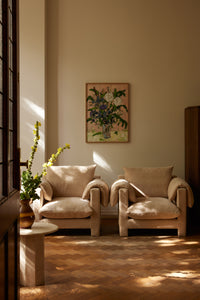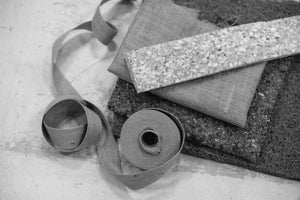 INDIVIDUALLY HANDMADE
Made in Norfolk
We have cultivated a steadfast and harmonious collaboration with a trusted small workshop. Our pieces are made by hand by a small team.
They are genuine partners in our quest for excellence. Together, we share a common purpose - crafting remarkable furniture that not only meets our exacting quality standards but also reflects our unique approach to design.
It is our joint commitment to produce exceptional pieces and relish every moment of the artistic endeavor. This enduring partnership empowers us to deliver products that truly resonate with our customers, embodying a blend of craftsmanship, passion, and pride.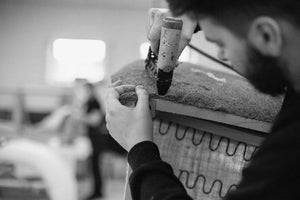 SUSTAINABLITY
Natural and Sustainable Materials
The majority of our upholstery range is meticulously fashioned from a thoughtfully curated blend of sustainable and natural materials, including a mixture of jute webbing, hessian, cocolok, typar, needlewool, and woolsafe interliner. This artful combination not only underscores our commitment to eco-conscious practices but also underscores the skilled craftsmanship involved. In select cases where essential, we incorporate foam to ensure both comfort and sustainability. The process of working with these premium natural materials demands heightened expertise and time, yet we firmly believe that the end results speak to the value of our endeavors.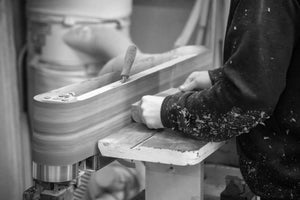 SUSTAINABLITY
Solid Beech
FSC-approved materials form the core of our sofa and armchair frames, assembled using precise screwing, doweling, and gluing techniques.
SUSTAINABLITY
Metal Springs
Utilized as the foundational layer on our seats - fully recyclable